Nutlet in Microchip Mayhem
A downloadable game for Windows and Linux
Nutlet is a cheery, bright and fast paced 3d platformer. Dash through the environments avoiding enemies and flying through crazy jumps. Download and enjoy the free 2 level demo.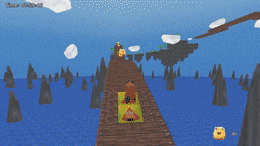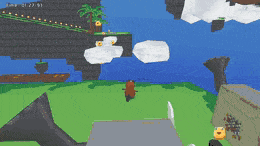 In the distant system of 486 on Planet 90 a mass solar ejection wreaks havoc on its populace.
Most of the population of cybernetic beings were wiped out in the ensuing electromagnetic waves of destruction.
The only inhabitants left were the older, outdated models.
In their desperation of preserving their existence from their increasing obsolescence, they set their sights on the neighbouring planet 120.
The solar mass ejection had spared their populace, their much younger, peaceful populace.
In an attempt to preserve Planet 120's legacy, their youngest, smallest and most advanced chips were sent out across the galaxy.
Some of those found their way to a distant, fuzzier and fluffier place.
The young chips call upon the aid of the inhabitant Nutlet to save them from the pursuing geriatrics of planet 90.
A controller with dual sticks is highly recommended. Keyboard Controls are implemented but not the best way to play.