Office Point Rescue - Out the Office
A downloadable game for Windows and Linux
Continuing on from the terrorist incident at the Emeraldalo Corporation's headquarters, Agent Foldon uncovers schemes and projects far more horrific than could be imagined. All was not what it seemed at, or rather below, EMC's headquarters.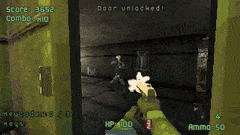 23 levels spread across 2 routes. Navigate through EMC's underground facility and discover their true "business" through personnel accounts.
Utilise 7 weapons to fight back foes - pistol, dual pistols, shotgun, double shotgun, sub-machine gun, light gun and the laser rifle.
Choose from 3 tuned difficulties.
Take on 2 unique boss enemies.
Save your progress. Return to the last level you reached with all your items, guns and ammo. No need to play through in a single sitting.
2 Additional unlockable modes - Giant Head Mode and Lightgun Mode
Switchable graphics mode, enjoy in the low-resolution mode or in clear, crisp high resolution.
Full retro midi-like soundtrack downloadable as flac and ogg. Includes tracks from Office Point Rescue Deja Vu.
Download
This game is currently unavailable